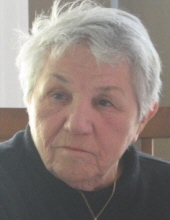 Obituary for Lydia A. Paterno
Lydia (Lee) Paterno, 85, of Bergenfield passed away peacefully at her home on March 4, 2018. This is not an ordinary obituary because Lee (Mom) was anything but ordinary. Her devoted husband of 64 years, Ronald, will be the first to tell you that. Together the elegant newlyweds drove cross country on their honeymoon and were mistaken for movie stars back when cinema was something of class and grace. Mom had the wonderful quality of being straight forward. You never had to guess where you stood with her. She was a tenacious pussy cat who always said what she thought whether you wanted to hear it or not. She loved the companionship of all her pets from Whitty Whee to Abigail and every one in between. She loved watching all sports especially football. The N.Y. Giants were her team and she wouldn't hesitate to give them encouragement by stomping the floor and yelling at the TV screen. Mom also enjoyed gardening and was happy to show us all the pretty flowers that graced her deck up at the lake. She enjoyed challenging the devotion of Dad through requests he would often dismiss but always oblige. Mom loved him dearly and relied on him for everything. She especially loved and was very proud of her three children, Kim Mazurkiewicz, Lisa Guinta and Shawn Paterno. We remember candy trees, bunny trails and hanging out at the Saint John's Christmas Bazaar while she helped out. Mom was at every single game, concert, match and band festival. She helped found the Bergenfield High School Flea Market and High School Band Parents Association. All while working her way up from lunch mother at Lincoln School to secretary of the Bursar's office at Fairleigh Dickinson University. Blessed with the gift of gab Mom often got into a lot of adventures and a few misadventures. She could speak to anyone and everyone and often did, sometimes to the chagrin of her middle child. The epitome of Mama Bear she would do anything for her children and grandchildren of which she had seven. Emily and Matthew of the Kim and Ed Mazurkiewicz clan, Kyle and Alison of the Lisa and Ray Guinta troop and Nicholas, Alexa and Gabriella of the Shawn and Amy Paterno bunch.
She was bold and fun and full of spice and spirit. She leaves our hearts broken with the thought that we will never see her or speak to her or be able to touch her hand again in this life. With God's grace and mercy someday we will embrace again in Heaven. But she also leaves us with more madcap and enduring stories we will use to mend that broken piece with. Everyone who knew her will never forget her spunk, humor and caring for them. It's safe to say that's what she always wanted. In lieu of flowers, please give generously to Saint Jude Children's Research Hospital, www.stjude.org "in memory". A Celebration of Life will be held on Monday, March 12, 2018 from 2-8 at Riewerts Memorial Home, 187 S. Washington Avenue, Bergenfield, N.J.. A Funeral Mass will be held on Tuesday, March 13, 2018 at 9:30 am at Saint Peter the Apostle Parish Church, 445 Fifth Avenue, River Edge, N.J. .
Previous Events
visitation
Riewerts Memorial Home
187 South Washington Ave.
Bergenfield, NJ 07621
service
St. Peter the Apostle RC Church
445 Fifth Ave
River Edge, NJ 07661